North Street Baptist Church.
North Street, Michigan

News and Updates
This site last updated on
11/19/01
11/16/01: The Harvest dinner was loads of fun! Thanks to all who made it possible.
Sorry but due to problems with my camera software there are no pictures.

11/15/01: Hi I'm Paul Hoehn III and I'm going to be the new site manager since my father
no longer has the time. I will be updating it every Sunday so stay tuned!

11/11/01: Our church is beginning a new ministry. In the foyer a box is provided where
non-perishable foods may be donated for a local soup kitchen. A little bit can go a long way.

Upcoming Events

Birthdays for the Month
12th Larry Brennan
16th Jason Brown
17th Melody McCanna

Anniversaries for the Month
12th Ben/Myra Stutler
13th Bob/Janet Lockwood
14th Larry/Penny Brennan

If you have any questions about the North Street Baptist Church, E-mail Pastor Scott by clicking on his name below.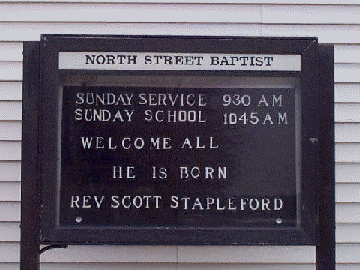 Site is under construction. More to come!



Pastor Scotts Page.
Photos of North Street Baptist Church.
Local E-Mail address of members.
Kids Pages.
Our Favorite Links.


Any suggestions for this site or anything you wish added to it, send it my way.

Paul Hoehn III Web Manager